Is there a charge for this service?
As with all facilities of this nature there are costs to be borne to maintain the Server, IT equipment, processing images, post, stationery, DVD's plus a plethora of other outgoings not normally considered. Although the project is run in association with the CWGC we are not funded by its Royal Charter and have to find these funds ourselves to maintain this service. Volunteers cover their own costs in enabling the photographs to be taken and give time freely.
To that end we would request that, a minimum donation is made towards the administrative and server costs which will allow us to continue providing the service. As a guideline, for an e-mailed, high resolution image, including a view of the cemetery if held, the administration fee will be £3.50.
For 7"x 5" glossy prints (including view if held) posted in hard backed envelope and presentation folder () the fee will be £5.50 (for overseas from UK £6.50). We request this be forwarded in advance of receipt of photographs.
If a memorial name is required you will receive a cropped area of the name on the plaque and a picture of the memorial as shown.
Individuals and Institutions requiring a number of images for publication or other purposes should contact the project on steve@twgpp.org. Photographs obtained from TWGPP are not to be sold on to third parties. Copyright remains with the Donor, CWGC and TWGPP.
You can donate through PayPal, Cheque or Postal Order made payable to S. Rogers and sent to 11 Falcon Road, Horndean, Hants PO8 9BY.
The TWGPP is a non-profit making organisation where any donations are used only for the benefit of the project.
Emslie, Peter John Buchanan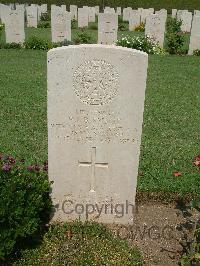 Cemetery: Salerno War Cemetery
Country: Italy
Area:
Rank: Lieutenant
Official Number: 222215
Unit: 319 Bty. 97 (3rd Bn The London Scottish) H.A.A. Regt. Royal Artillery.
Force: Army
Nationality: British
Details:
4th September 1943. Age 24. Son of Robert William and Annie Ethel Hilda Emslie; husband of Betty Amor Emslie of Brixton London. VI. C. 12.
Photograph and details by volunteer/s: Steve and Sandra Rogers